Freedom for Anti-War Activists in Azerbaijan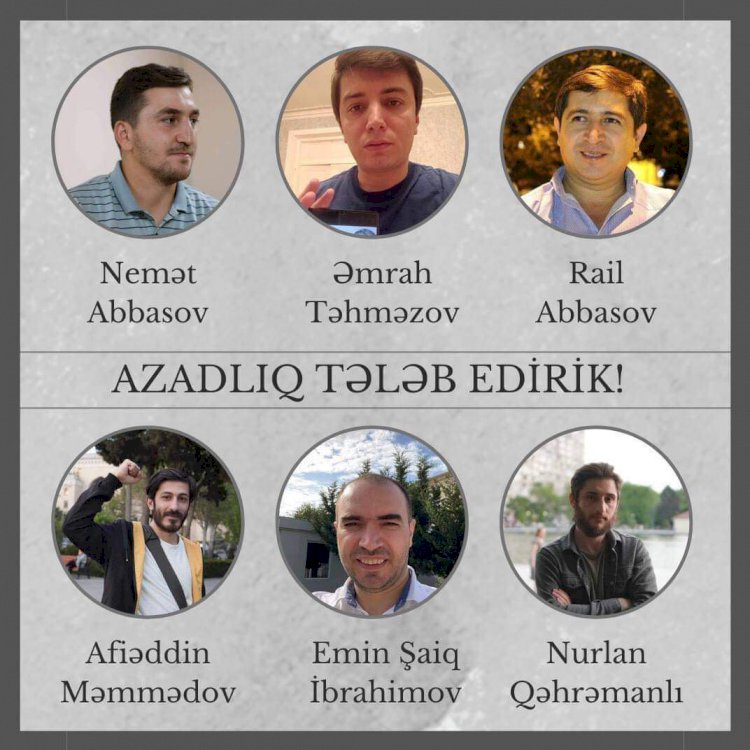 The Azerbaijani government has begun arresting anti-war activists in the country following its offensive to take over Nagorno-Karabakh. Since September 19, four activists and a journalist who spoke out against military actions in Karabakh have been arrested in Azerbaijan on various charges. 
Aliyev increases the dose of warmongering and continues to rule the country by leaning on his war agenda. The voices rising against the Aliyev autocracy, which uses every opportunity to raise chauvinist hysteria over Nagorno-Karabakh and Armenia, are being tried to be silenced by oppressive measures.
Since last month, as the Armenian and Azeri states increased their military build-up and war tension, those who said no to the war were detained and arrested in Azerbaijan. So far 5 people have been arrested for opposing the chauvinist war campaign. 
Afieddin Mammadov, who is currently detained, is wanted to be imprisoned for a long time with baseless allegations. Another activist, Afiaddin Mammadov, was arrested on charges of hooliganism and intentionally causing damage to a person's health. His supporters say it was a set-up. According to one fellow activist, he found himself in the vicinity of a person who had stabbed himself, he (Mammadov) was then punched in the face so he could not leave the scene and had the knife forcibly placed in his hand so it would have his fingerprints. A preliminary imprisonment period of 2 months has been determined for Mammadov, and it is reported that this sentence may go up to 13 years due to fake allegations.
Amrah Tahmazov, who had been previously sentenced to 30 days in prison for his anti-government ideas, was detained at the state security center where he was summoned to testify after his anti-war posts on his social media account and was sentenced to 30 days in prison. Tahmazov is known for his opposition to the 2020 war (in which Azerbaijan retook most of the territory it had lost in the first war in the 1990s) and the Azerbaijani government in general. In May too, he served a one-month administrative sentence after he wrote a Facebook post criticizing President Ilham Aliyev in defense of a fellow hunger-striking activist. 
Another arrested person, journalist Nurlan Gahramanli (Libre), was detained from his home by the police because he expressed his anti-war ideas and carried out journalistic activities in this direction. He was reportedly beaten by 3 people at the police station and sentenced to 30 days in prison. It is reported that Gahramanli's phone was cut off after he called his family from prison and told his family that he was tortured in prison.
A public figure Emin Ibrahimov received 30 days of administrative arrest on the same charge. He is a former diplomat who worked at the Azerbaijani Embassy in the United States, the country's diplomatic mission in Uruguay, and others. Emin Ibragimov believed that the operations in Karabakh were conducted within the framework of Russian interests and wrote about it in his latest Facebook posts.
On September 20, Nemet Abbasov, who was is a veteran of the second Karabakh war, was sentenced to administrative arrest as he is currently speaking out against the war  It is reported that the activist was detained under Article 535.1 (Intentional disobedience to the lawful demand of a police officer or military officer) of the Code of Administrative Offenses. 
The Aliyev regime's method of tracking and abducting dissidents followed by imprisonment with fabricated excuses continues to be used in this process. The hunt for those who publicly criticized the latest attack on Nagorno-Karabakh continued even after the ceasefire was agreed.