The message of the Syndicate of Workers of Tehran and Suburbs Bus Company (SWTSBC) to the unions and international labor federations
Translated by Zhaleh Sahand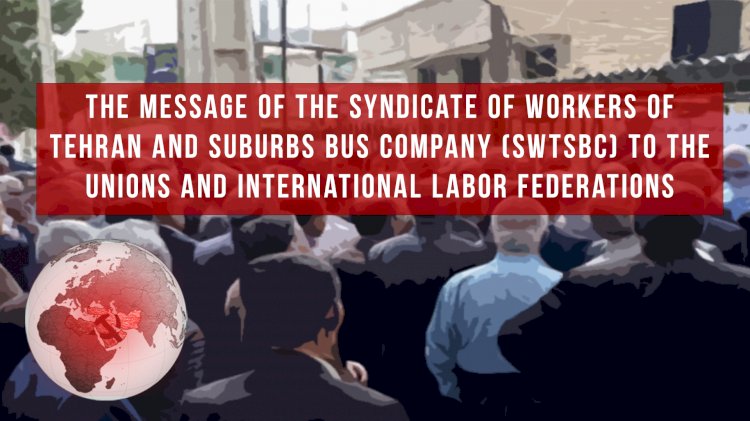 The message of the Syndicate of Workers of Tehran and Suburbs Bus Company (SWTSBC) to the unions and international labor federations
Dear friends and fellow workers,
For many years and during the protests in recent months, your support for the labor movement and the freedom and justice-seeking struggles of the oppressed people of our country, has been heartwarming and a source of joy. Unfortunately, labor activists, including members of our union, are still either in prison or facing unfair charges and sentences. The right to establish independent labor organizations is completely violated and has always been met with repression. As you have stated in your statements, thousands of protesters have been arrested and hundreds of people have been killed and injured in recent months. We seal the demands that you, our friends have announced, including the unconditional release of political and religious prisoners and all the detainees of the nationwide protests and the immediate and complete halt of executions. We emphasize that in order to achieve our immediate and ultimate demands, we rely only on the workers, women, men, and the oppressed youth of the country, as well as the international press release and communications, the workers solidarity, the caring people of the world, the labor and the humanitarian organizations, the defenders of the human rights, and that is all.
We are grateful for being informed that on 19 Bahman (corresponding to February 8, 2023), you have organized various actions in solidarity with the Iranian workers and the movement for Women, Life, Freedom in European countries, including England, France, Denmark, Sweden, Germany, and also in Canada, and we deeply appreciate your attention and support, dear fellows. Labor solidarity knows no borders, and we will always be by your side, dear ones
With the warmest greetings.
The imprisoned workers should be released
The political prisoners should be released
With the hope of the spread of peace and justice in Iran and in the whole world
The Syndicate of Workers of Tehran and Suburbs Bus Company (SWTSBC)
Tuesday, February 7, 2023